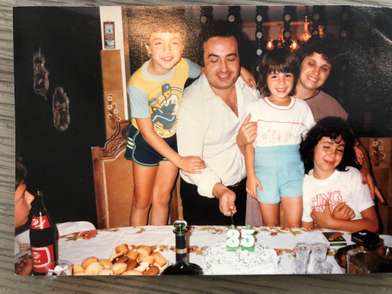 Above: My dad celebrating his 35th birthday, and that's me on the left in my super short shorts.
My Dad is the most significant and influential man in my life.
He is, and always has been, my greatest supporter and source of inspiration. For the record, my Mom is equally great, too ― but since Father's Day is Sunday, I want to pay tribute to my Dad and the important business and life lessons I learned from him
My childhood was like most kids whose parents worked for themselves: we went to work too. Over the years, I worked side by side with my Father in many business endeavors. Some ventures were successful, some heartbreaking, but all were lessons in embracing risk, stepping outside of your comfort zone, perseverance, drive and resilience. What I did not realize is that, even as a child, I was developing the business acumen I have today, simply by watching him.
In reflection, here are three valuable business lessons my Father imparted to me through both his words and actions.
1. Your Word Is Your Bond
It goes without saying but bears repeating: Be honest, and treat people well. Respect is best learned when modeled and that is what my Dad imparted on his children. My Dad taught me in business and in life if you make a promise to somebody you stick to it. Without your word, you have nothing. A good leader holds themselves accountable to their peers and team. Most importantly, I learned not to be afraid of being vulnerable. If you make a mistake, say so and then do all you can to fix it.
2. Have No Fear, Take Risks, and Trust Your Intuition
My father told me a long time ago in his thick Italian accent, "Too much brains is no good." His gut drove many of his decisions as it drives mine. When either him or I get too far into our heads, the results were never as good as just going with our gut. He taught me how to take risks, to ask why not? Don't let the noise of other people's opinions drown out your inner voice. Have the courage to follow your heart and intuition. That's where you find your direction. One of the greatest examples of this is when my father at the age of 18, decided to migrate from Argentina to Canada by himself without knowing one word of English to start a new and better life.
3. Be Passionate, Work Hard and Cherish Your Relationships
If you are in a leadership role, many have a perception that your smarts make you a great leader, but my Dad instilled in me that your passion, drive and work ethic inspire people to follow you. From there, relationships are built that can provide the most meaning to your life. Yes, knowledge is important but more often than not it is not the sole ingredient for success. In our store, we had an espresso machine in the backroom and all our clients were treated like friends and family. They not only had coffee with us, but we would engage in conversation and my Dad would have his kids included. None of this was planned or structured; it was just, "you're a part of the family now." No matter what was happening with my Father's businesses, he always made time for his friends and family.
Now, as a CEO myself, living these core lessons is crucial. My Dad knew how to be both a true professional and a friend. He taught me that if you work hard and treat others with respect, you can achieve great things in life.
Thank you, Dad! Happy Father's Day.
Tony Reda