Tectonic Metals Acquires Three Additional Potential Intrusions On-Trend with the Flat Gold Project
Adds 7680 Acres North of Original Flat Claim Boundary to Secure the Underexplored Northern Extension of the Flat Gold System
VANCOUVER, B.C., October 30, 2023 – Tectonic Metals Inc. (TECT: TSX-V; TETOF: OTCQB; T15B: FSE) ("Tectonic" or the "Company"), a mineral exploration company applying a disciplined, up-front de-risking strategy to address the economics, community benefits and sustainability of the Company's projects, today announced the acquisition of three potential intrusions that are on-trend and similar in many respects to Flat's main, gold-bearing intrusion, Chicken Mountain, and the potential buried intrusion at Golden Apex.
Key Highlights:
Immediately north of and contiguous with Tectonic's 92,160 acre Flat Gold Project, the Company added 7,680 acres (48 x 160 acres state claims):

2,720 acres (17 x 160 acres state claims) were acquired from a third-party vendor; and
4,960 acres (31 x 160 acres state claims) of new claims were staked by Tectonic.

Secures the rights to three geophysical anomalies north of the Company's Flat Gold Project that follow the 20km "string-of-pearls" geophysical trend of several confirmed intrusion related gold systems currently being explored.
These potential intrusions represent the possible bedrock source of the historic placer production from Otter Creek and Malamute Pup.
"Introducing 'The Flat Gold System' - a network of interconnected geophysical anomalies that indicate six confirmed or potential intrusion related gold systems. Spanning a 20km trend, these intrusion targets are significant in size and interpreted to be bedrock sources for placer gold, reinforcing our belief that Flat is a Tier One Opportunity," stated Tony Reda, President and Chief Executive Officer of Tectonic. "It is truly remarkable that our company has access to such a large number of intrusion targets, which would be nearly impossible in a more established, mature, exploration and mining district. There is a collective sense of relief and excitement now that we have secured the right to explore these three additional potential intrusions north of the Flat Gold Project.
"The complex north of Otter Creek appears to contain multiple potential intrusion-related gold systems similar to the Chicken Mountain intrusion, which Tectonic is exploring through drill testing this year. Two of the potential intrusions lie immediately north of and drain into Otter Creek, which has already produced 417,000 ounces of recorded placer gold1. Surprisingly, historic data indicates that these areas have seen minimal exploration and no drilling in contrast to the southern portions of the Flat Gold System."
Confirmed and Potential Intrusions in the Flat Gold Project (Listed North to South)
| | | | |
| --- | --- | --- | --- |
| Intrusion Target | Intrusion Status | Area of Geophysical Anomaly | Known, Recorded Placer Production from Drainages in Immediate Vicinity1 |
| Caribou | Potential | 1.7 km x 2.1 km | N/A |
| Jam | Potential | 3.4 km x 5.5 km | 419,000 oz (Otter and Malamute Pup) |
| Horseshoe | Potential | 3.0 km x 2.0 km | 417,000 oz (Otter Creek) |
| Black Creek Stock | Confirmed | 1.5 km x 1.5 km | 445,000 oz (Otter and Black Creek) |
| Golden Apex | Potential | 2.5 km x 2.5 km | 682,000 oz (Flat, Slate, Black Creeks) |
| Chicken Mountain | Confirmed | 6.5 km x 5.6 km | 954,000 oz (Flat, Happy, and others) |
Figure 1: Geophysical Anomalies of the Flat Gold System (7,200hz resistivity)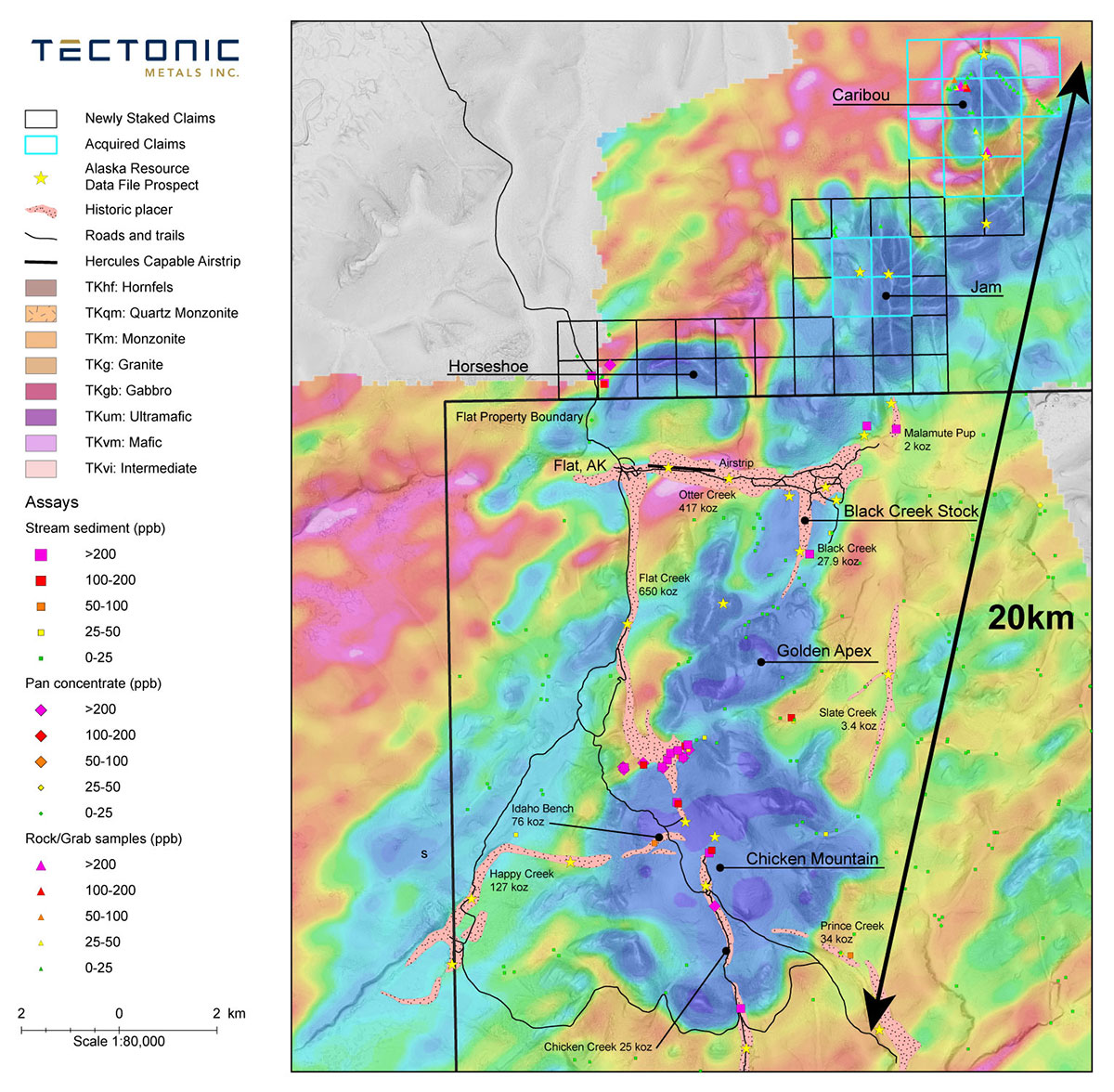 The newly acquired third party claims are comprised of two groups: the Jam and Caribou Blocks. The Jam group comprises a 640 acre claim (4 x 160 acres state claims) covering an area of exposed monzonite intrusion, volcanic cap rocks and related hornfels, and hosts several historic gold showings.
Figure 2: Bedrock Geology of the Flat Gold System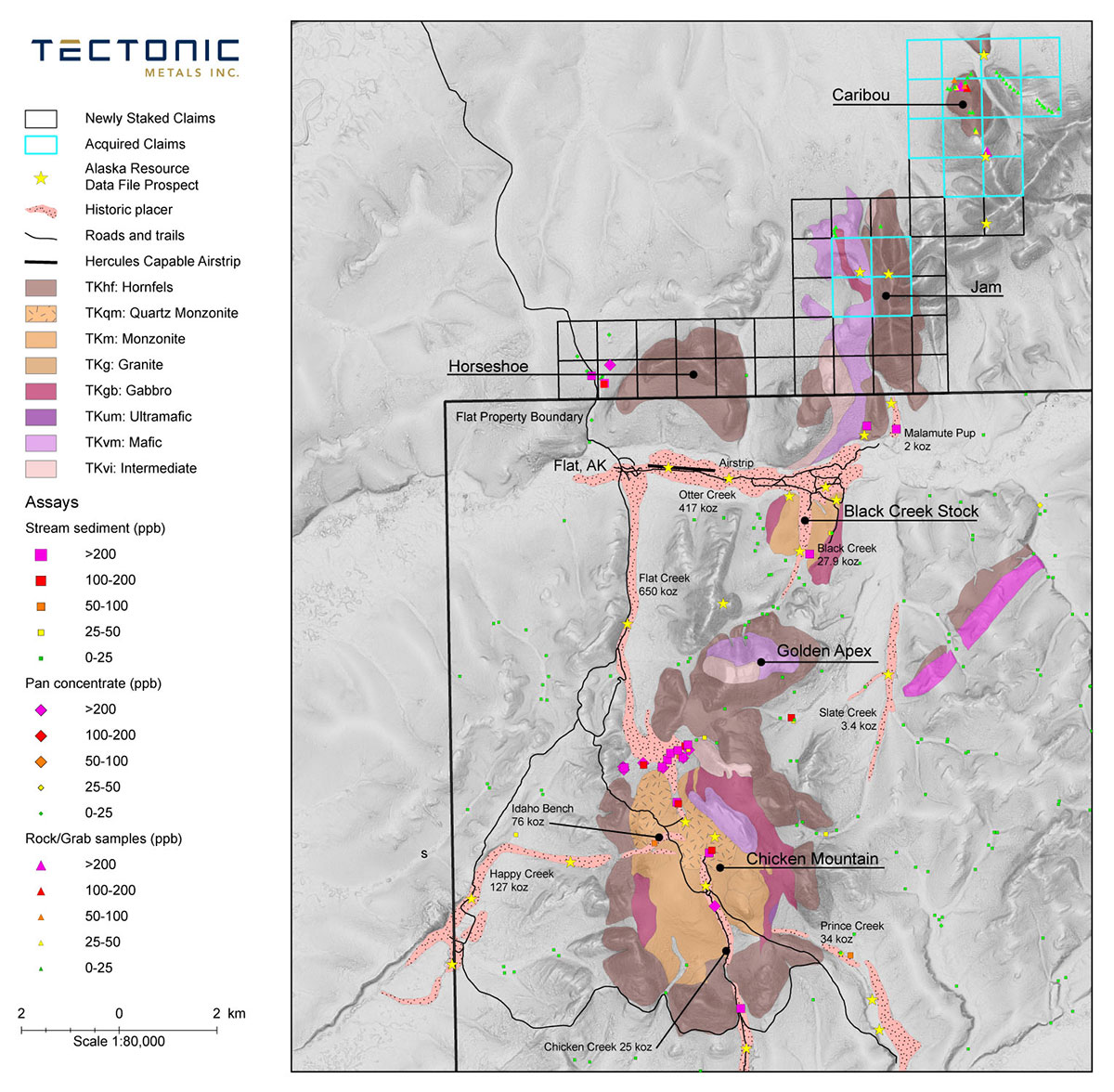 The Caribou group comprises a 2,080 acre claim (13 x 160 acres state claims) covering a 1.5 x 1.5 mile area of hornfelsed Kuskokwim sediments hosting hypabyssal granite dikes, suggesting a near surface intrusion underlies the area. Airborne geophysical surveys indicate that exposed intrusions and hornfelsed areas on both claim blocks are coincident with and centered on resistivity and magnetic lows similar to those over the mineralized Chicken Mountain and Black Creek monzonite stocks to the south within Tectonics Flat Property. Furthermore, 3D inversion and modelling of the airborne magnetic data on the Jam and Caribou claims suggest pipe-like to cone shaped intrusions underlie the hornfels areas near to surface, indicating potential for intact mineralized cupolas (see Figure 3 for reference).
Figure 3: Reduced Intrusion-Related Gold Systems
Geochemistry, veining and host rock are key indicators of proximity to cupola.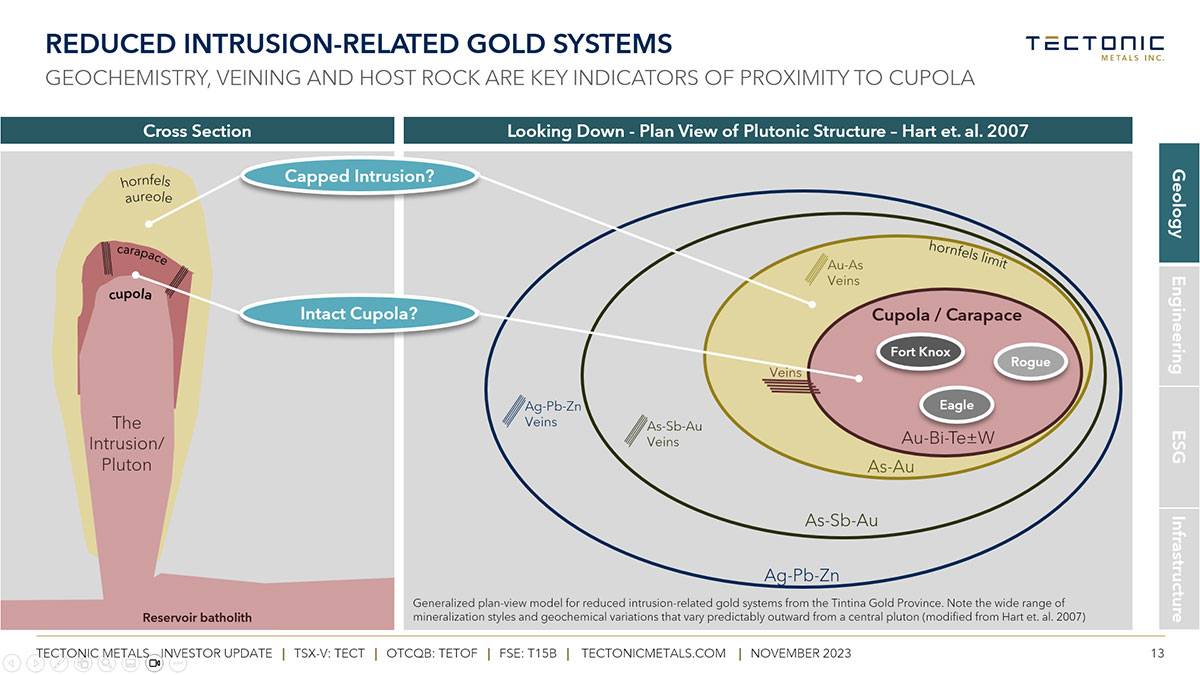 An additional 4,960 acres (31 x 160 acres state claims) were staked by Tectonic to cover prospective geology between, around and south of the acquired claim blocks, and extend the package to the west over semi-concentric body of hornfelsed Kuskokwim sediments covering an area of approximately 2.0 x 1.0 miles. Very limited historic stream sediment and pan concentrate sampling indicate the presence of highly anomalous gold emanating from south flowing drainages likely sourced from the hornfelsed area.
Under terms of the agreement for the Third Party acquired claims, Tectonic will pay the lessor US$25,000 at execution of the lease, and make annual payments on or before the anniversary of the effective date of the agreement comprising of US$25,000 for years one to three, and US$50,000 annually for years four and beyond. Tectonic shall have the option at any time prior to the sixth anniversary to purchase 100% interest in the claims for US$200,000 payable in cash or common shares of Tectonic Metals Inc.
In order to maintain its Option to Purchase in good standing, Tectonic must make the following expenditures for Work on the Subject Property:
Fifty Thousand Dollars (US$50,000.00) before December 1, 2024; and
An additional One Hundred Thousand Dollars (US$100,000.00) before December 1, 2025; and
An additional One Hundred Thousand Dollars (US$100,000.00) before December 1, 2026; and
An additional Two Hundred Thousand Dollars (US$200,000.00) before December 1, 2027; and
An additional Two Hundred Thousand Dollars (US$200,000.00) before December 1, 2028.
Tectonic shall pay the Lessor a 2.0% Net Smelter Return royalty on all precious Mineral Products produced and sold from the Claims. If the option to purchase is exercised, the royalty for precious metals can be reduced at any given time to 1% in exchange for a US$1,500,000 payment to the Lessor.
The Flat Gold Project – Alaska's Next Tier 1 Opportunity
Tectonic is currently assessing the Flat Gold Project in partnership with Doyon Limited ("Doyon"), one of Alaska's largest native regional corporations and a significant Tectonic investor. Between 1908 and 1966 approximately 1.4 million ounces of Placer Gold was produced in and around the Flat Gold project1. Chicken Mountain is credited as the primary source of this historic placer gold1. You can find Chicken Mountain on Google Earth here.
Tectonic is currently evaluating this target, which features a four-kilometer long gold in-soil anomaly and 55 historic drill holes, all of which intersected and 25 of which ended in gold mineralization. Highlights intersects from this historical drilling2 include 12.56 g/t Au over 24.7m, 211 g/t Au over 1.4m, 0.98 g/t Au over 76m, 1.36 g/t over 36.6m, and 5.62 over 7.6m.
Preliminary metallurgical analysis to-date has demonstrated rapid leach kinetics and gold recoveries averaging 95% from bottle roll testing3. This, combined with gold intersections at or near surface, suggest Chicken Mountain could represent an open pit, heap leach opportunity. Chicken Mountain is part of a larger geophysical anomaly that appears to represent an 11-kilometer-long intrusion related gold system that incorporates the additional targets of Golden Apex and Chicken Mountain East.
Placer production figures from "Mineral Occurrence and Development Potential Report, Locatable and Salable Minerals, Bering Sea-Western Interior Resource Management Plan, BLM-Alaska Technical Report 60", prepared by the U.S. Department of the Interior, Bureau of Land Management, November 2010.
Please refer to Tectonic's news release dated September 28, 2021 for historic drill results.
Please refer to Tectonic's news release dated February 16, 2023 for metallurgical testing.
About Tectonic Metals Inc.
Tectonic brings a highly disciplined capital allocation and development process to mineral exploration. By consistently limiting their focus to tier 1 opportunities that fit their formula for mine economics, and de-risking projects upfront, the team has established a tremendous track record of success. Members of the Tectonic team have been directly involved in identifying and monetizing several significant gold discoveries throughout N. America that have created a tremendous amount of value for shareholders and stakeholders.
To learn more about Tectonic, please click here.
Qualified Person 
Tectonic's disclosure of a technical or scientific nature in this press release has been reviewed, verified, and approved by Peter Kleespies, M.Sc., P.Geo., Tectonic's Vice President Exploration, who serves as a Qualified Person under the definition of National Instrument 43-101. 
On behalf of Tectonic Metals Inc.,
Tony Reda
President and Chief Executive Officer
For further information about Tectonic Metals Inc. or this news release, please visit our website at www.tectonicmetals.com or contact Tom McMillan, Investor Relations, at toll-free 1.888.685.8558 or by email at tom@tectonicmetals.com.
Cautionary Note Regarding Forward-Looking Statements
Certain information in this news release constitutes forward-looking information and statements under applicable securities law. Any statements that are contained in this news release that are not statements of historical fact may be deemed to be forward-looking statements. Forward-looking statements are often identified by terms such as "may", "should", "anticipate", "expect", "intend" and similar expressions and include, but are not limited to, the potential for mineralization at Tectonic's projects, any future exploration activities and the size; the receipt of any regulatory approvals, including the final approval of the TSXV.
Forward-looking information is not a guarantee of future performance and is based upon a number of estimates and assumptions of management at the date the statements are made including, among others, assumptions about future prices of gold and other metal prices, currency exchange rates and interest rates, favourable operating conditions, political stability, obtaining governmental and other approvals and financing on time, obtaining required licenses and permits, labour stability, stability in market conditions, availability of equipment, accuracy of any mineral resources, successful resolution of disputes and anticipated costs and expenditures. Many assumptions are based on factors and events that are not within the control of Tectonic, and there is no assurance they will prove to be correct.
Although Tectonic considers these beliefs and assumptions to be reasonable based on information currently available to it, they may prove to be incorrect, and the forward-looking statements in this release are subject to numerous risks, uncertainties and other factors that may cause future results to differ materially from those expressed or implied in such forward-looking statements. Forward-looking statements necessarily involve known and unknown risks, including, without limitation: the Company's ability to implement its business strategies; risks associated with mineral exploration and production; risks associated with general economic conditions; adverse industry events; marketing and transportation costs; loss of markets; volatility of commodity prices; inability to access sufficient capital from internal and external sources, and/or inability to access sufficient capital on favourable terms; industry and government regulation; changes in legislation, income tax and regulatory matters; competition; currency and interest rate fluctuations; and other risks.
Readers are further cautioned not to place undue reliance on forward-looking statements as there can be no assurance that the plans, intentions or expectations upon which they are placed will occur. Such information, although considered reasonable by management at the time of preparation, may prove to be incorrect and actual results may differ materially from those anticipated. Forward-looking statements contained in this news release are expressly qualified by this cautionary statement. Although Tectonic has attempted to identify important factors that could cause actual results to differ materially from those contained in forward-looking information, there may be other factors that cause results not to be as anticipated, estimated or intended. There can be no assurance that such information will prove to be accurate, as actual results and future events could differ materially from those anticipated in such statements. Accordingly, readers should not place undue reliance on forward-looking information. Tectonic does not undertake to update any forward-looking information, except in accordance with applicable securities laws.
Neither the TSX Venture Exchange nor its Regulation Service Provider (as that term is defined in the policies of the TSX Venture Exchange) accepts responsibility for the adequacy or accuracy of this release.